Get Back to Living Your Best Life With Affinity Wellness!
Craniomassage Kelowna
Are you looking for a natural, non-invasive way to manage stress and anxiety? Cranial massage may be the answer. It's an ancient practice that has been used for centuries to provide relief from physical pain and emotional distress. 
Book an Appointment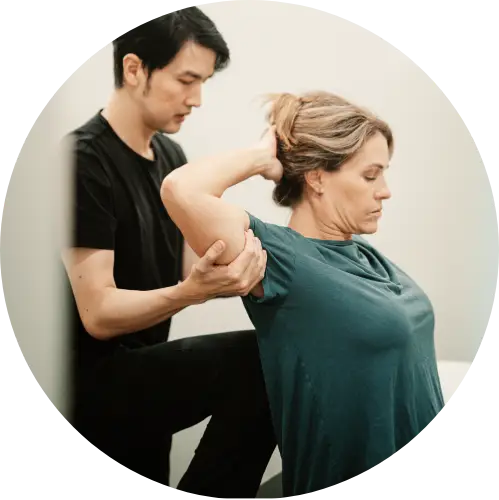 We Are Here for YOU!
Osteopathic Practitioners support the body's ability to restore and maintain health by using skilled palpation and manual techniques to influence muscles, joints, nerves, connective tissue, circulation and internal organs.
The World Health Organization, in its 2010 report on Osteopathy, recognized osteopathy as distinct from other healthcare professions that utilize manual techniques, such as physiotherapy and chiropractic, despite some overlap in the techniques and interventions employed.
We also offer direct billing to most major insurance companies as well as ICBC. Please see our direct billing page for more information.
Cranialosteopathy- Massage: A Natural Answer to Stress and Anxiety
Cranial massage is a form of bodywork therapy that involves applying pressure to specific points on the head, neck, and other parts of the body. This type of massage has been found to be beneficial for alleviating tension headaches, managing anxiety and depression, reducing stress levels, improving posture and muscle tone, and providing relief from chronic pain. 
The goal of cranial massage is to stimulate the release of endorphins, hormones responsible for feelings of pleasure and relaxation. This can help reduce the physical and emotional symptoms associated with stress and anxiety. 
Cranialosteopathy is a natural way to manage stress and anxiety that has many benefits. If you're looking for relief from the physical and emotional symptoms of stress, give this therapy a try! 
Ready to start reaping the rewards? Book an appointment with a trained cranialosteopath today and experience the restorative power of touch.
Book an Appointment
As part of our multidisciplinary clinic, our leading healthcare professionals at Affinity Family Wellness are dedicated to helping you achieve your health goals – combining a wide variety of skills and expertise that spans the entire chiropractic, physiotherapy, massage, counselling, registered dietetics, and exercise rehabilitation wellness spectrum.
AS A TEAM, WE PROVIDE A WHOLE-BODY HEALTH AND WELLNESS APPROACH.
Book an Appointment
Pricing and Packages
30 min -$50 
"Limited Time:" 15 min COMPLEMENTARY Normatec Trial
Assessment and Subsequent Appointments:
$430 + GST 
Package offering that includes: 90 min Manual Osteopathy Assessment, and 2 x 60 min Subsequent Manual Osteopathy appointments. 
$370 + GST 
Package offering that includes 90 min Manual Osteopathy Assessment, 60 min Subsequent follow-up, 20 min trial of Normatec compression with a 30 min. Craniotherapy massage.
Normatec Kelowna FAQs
Normatec's advanced compression and massage therapy system can help improve your overall wellness by amplifying circulation, reducing muscle soreness and joint pain, promoting lymphatic drainage, relieving stress, improving body flexibility and agility, and increasing physical performance. 
Normatec utilizes dynamic, sequential compression massage therapy to maximize circulation and lymphatic drainage. This type of massage technique has been proven effective in improving athletic performance and reducing muscle soreness. 
Normatec's massage therapy is generally safe and effective for everyone. However, if you have a medical condition, we always recommend consulting your physician before using Normatec to ensure it's the right fit for you.