Relief, Restoration, and Performance
Deep Tissue Massage Therapy in Kelowna
The body is a complex system, and sometimes it requires specialized care to relieve tension, restore balance, and enhance overall well-being. At Affinity Wellness, we offer Deep Tissue Massage, including Shiatsu and Sports Massage, tailored to your specific needs.
Book an Appointment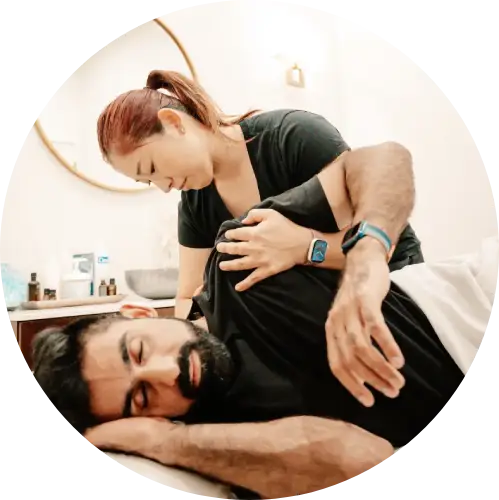 Deep Tissue Massage: A Powerful Solution
Deep Tissue Massage focuses on relieving muscle soreness or tension and restoring balance in the body. Our skilled therapists use advanced techniques combined with deep pressure to target areas of tension while providing lasting relaxation.
Deep Tissue Massage is not just a regular massage with more pressure. It's a specialized technique that targets the deeper layers of your muscles and connective tissues. By applying concentrated pressure on these areas, it helps in releasing knots and relieving tension.
Benefits of Deep Tissue Massage
Relieves Chronic Pain and Inflammation

Improves Mobility and Flexibility

Reduces Stress and Anxiety

Enhances Athletic Performance

Prevents Injuries

Popular with Athletes for Muscle Soreness Relief

Addresses Old Injuries, Sports or Automobile Accidents

Improves Blood Circulation and Lowers Blood Pressure
Who Can Benefit from Deep Tissue Massage Therapy?
Athletes

: For relief from muscle soreness or tightness.

Office Workers

: To address overworking muscles created by poor posture.

Chronic Pain Sufferers

: To help reduce tension and as a result reduce pain.
Recovering Patients: To reduce tension and increase range of motion, preventative measures against further injury.
Book Your Deep Tissue Massage in Kelowna Today!
Whether you're an athlete looking for relief from muscle soreness or someone seeking relaxation and rejuvenation, our Deep Tissue Massage services are tailored to meet your needs. Book your appointment today and let Affinity Wellness get you back in the game!
Book an Appointment
Experience Harmony and Balance
Shiatsu Massage, a type of Japanese bodywork, uses pressure from the hands to create balance and harmony in the body. This powerful form of massage works on all levels – physical, energetic, and muscular – to help you get relief from muscle tension caused by everyday activities such as sitting at a desk for long periods of time or engaging in strenuous physical activity.
A Shiatsu massage appointment is usually an hour long and begins with a consultation so that your therapist can understand your needs better. During the massage, you will be fully clothed and lying on a massage table, while your therapist works slowly and deeply through the muscles to find areas of tension. At the end of the session, you should feel relaxed and energized.
Therapeutic Benefits of Shiatsu Massage
For Athletes and Active Individuals
Sports Massage is a form of medical therapy focused on the assessment and treatment of muscular pain through various techniques. Suitable for athletes and regular physical activity enthusiasts, it can improve performance, reduce stiffness, heal injuries, and more.
Why Choose Sports Massage?
Frequently Asked Questions (FAQs)
During a Shiatsu Massage, you will be fully clothed and lying on a massage table. The therapist will work slowly and deeply through the muscles, applying pressure to key points to reduce tension and enhance performance.