Get Back to Living Your Best Life With Affinity Wellness!
Shockwave Therapy Kelowna
Harness the power of long-term injury solutions when conventional treatments fall short. Embrace a new approach for lasting relief and recovery. 
Experience non-invasive pain relief with the revolutionary technique of shockwave therapy.
Book an Appointment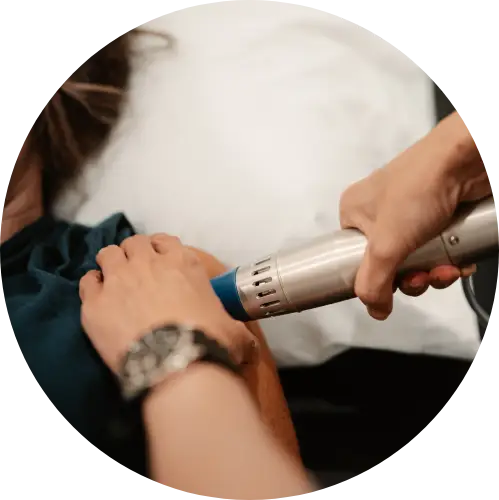 We Are Here for YOU!
Osteopathic Practitioners support the body's ability to restore and maintain health by using skilled palpation and manual techniques to influence muscles, joints, nerves, connective tissue, circulation and internal organs.
The World Health Organization, in its 2010 report on Osteopathy, recognized osteopathy as distinct from other healthcare professions that utilize manual techniques, such as physiotherapy and chiropractic, despite some overlap in the techniques and interventions employed.
We also offer direct billing to most major insurance companies as well as ICBC. Please see our direct billing page for more information.
What is Shockwave Therapy?
Extracorporeal Shockwave Therapy (ESWT) offers a remarkable healing approach. With a handheld device emitting high-energy sound waves, also known as pressure waves, it's like a gentle massage for your injured tissue. These mechanical shockwaves trigger the body's natural healing processes, inducing an inflammation-like response that promotes blood circulation and metabolism. The result? Enhanced cell regeneration and accelerated healing. And that's not all! Shockwave Therapy can even help reduce calcifications and improve pain levels and range of motion in individuals with frozen shoulder. It's a game-changer for pain relief and healing! 
What Conditions Can Be Treated With Shockwave Therapy?
Shockwave therapy can be used to treat a variety of conditions, including but not limited to: 
Plantar fasciitis 

Achilles tendinopathy 

Tennis elbow 

Rotator cuff tendinitis 

Patellar tendinopathy 

Shin splints 

Hip bursitis 

Stress fractures 
It is always best to consult with a healthcare professional to determine if shockwave therapy is appropriate for your specific condition.
As part of our multidisciplinary clinic, our leading healthcare professionals at Affinity Family Wellness are dedicated to helping you achieve your health goals – combining a wide variety of skills and expertise that spans the entire chiropractic, physiotherapy, massage, counselling, registered dietetics, and exercise rehabilitation wellness spectrum.
AS A TEAM, WE PROVIDE A WHOLE-BODY HEALTH AND WELLNESS APPROACH.
Book an Appointment
Pricing and Packages
$85/1, 3/$220, 5/$350 + GST
Assessment and Subsequent Appointments:
$430 + GST 
Package offering that includes: 90 min Manual Osteopathy Assessment, and 2 x 60 min Subsequent Manual Osteopathy appointments. 
$370 + GST 
Package offering that includes 90 min Manual Osteopathy Assessment, 60 min Subsequent follow-up, 20 min trial of Normatec compression with a 30 min. Craniotherapy massage.
Shockwave Therapy Kelowna FAQs
If you have been dealing with long-term injuries that have not improved with conventional treatments, you may have considered steroid injections or surgery. However, there is another option to explore: Shockwave Therapy. This innovative treatment offers hope and potential for those who have not found success with other therapies.
During the treatment, some patients may experience mild discomfort or a tingling sensation. However, the intensity can be adjusted to ensure a tolerable and effective treatment session. 
The number of shockwave therapy sessions required varies depending on the condition being treated. Typically, a series of 3-6 sessions, spaced a week or two apart, are recommended to achieve optimal results.