Maximize Your Physical Potential With Affinity Wellness!
Physiotherapy Kelowna
Our friendly and experienced physiotherapists are here to help you get back on your feet, as quickly and safely as possible. We look forward to helping you get better and feel better! Kelowna's leading team of experienced and qualified physiotherapists work with people of all ages, to help you recover from an injury, reduce pain, and improve your overall quality of life.
At Affinity Wellness, we know that a personalized approach is the key to successful treatment of musculoskeletal injuries. That's why we take the time to get to know each patient and their individual needs. We also use the latest evidence-based treatments in our physiotherapy practice, such as manual therapy, exercise prescription, dry needling, shock wave therapy, yoga therapy and concussion rehabilitation.
At Affinity Wellness, we believe that everyone deserves quality care and a better quality of life. Our experienced team of physiotherapists has the knowledge, experience, and skills to help you achieve that goal. Schedule an appointment with your physiotherapist today and start feeling better!
Book an Appointment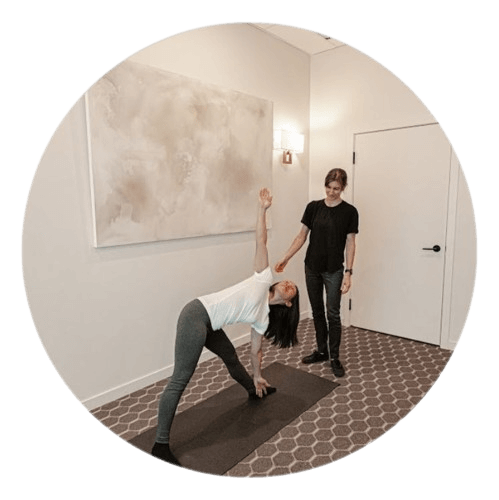 What Is Physiotherapy?
Physiotherapy is a medical, hands-on approach to relieving pain and restoring function. Physiotherapy services include a broad range of treatment approaches that can help individuals live supported, strong, and mobile lives. Physiotherapists are medical experts in musculoskeletal and neurological conditions and work closely with physicians, strength & conditioning coaches, massage therapists, and additional practitioners to help you reach optimal health.
Our Kelowna-based physiotherapists evaluate your movement patterns, identify the cause of your pain, and work with you to eliminate it. While every client's condition and pain are unique, your physiotherapist will use a variety of gentle hands-on techniques, exercises, and equipment to relieve pain quickly and restore your function to optimum levels. The overall goal is to restore pain-free mobility and function and to prevent the injury or pain from recurring.
We also offer direct billing to most major insurance companies as well as ICBC. Please see our direct billing page for more information.
At Affinity Family Wellness, we treat any condition related to joints, muscles, or nerves for all age groups, with pelvic health being a specific area of focus. If you are unsure if your problem can be addressed by us, please feel free to give us a call or email us. Some examples of conditions we treat are:
Neck & back pain and stiffness
Nerve impingement, such as sciatica
Sports injuries, such as ankle or knee sprains and shoulder pain
Arthritis
Concussion
Overuse injuries, such as carpal tunnel syndrome or Achilles tendinitis
Whiplash following a car accident
Incontinence
Back pain due to weak pelvic floor muscles
Pre/postnatal pelvic health conditions
Taping

Soft Tissue Release

Manual Therapy

Cupping

Customized Exercise Prescription

Dry Needling (IMS-style acupuncture)
Orthopaedic Rehabilitation
Affinity Family Wellness services provides Kelowna and area with orthopaedic rehabilitation – a branch of physiotherapy that specializes in the assessment, diagnosis, and treatment of the musculoskeletal system, which includes pathology or dysfunction of bones, muscles, cartilage, tendons, ligaments, and joints. This branch of physiotherapy also addresses MVA (motor vehicle accident) injuries and workplace accidents in BC. Treatment plans for musculoskeletal conditions may include the following practices: soft tissue treatments, joint mobilization/manipulation, exercise prescription modalities, patient education, and needling techniques.
Physiotherapists in this realm specialize in the management of a variety of injuries, including those caused by motor vehicle accidents, workplace injuries, slips and falls, and overuse injuries, as well as managing preoperative and postoperative care.
Dry needling sometimes referred to as intramuscular stimulation (IMS), is a skilled technique performed by a specially trained physiotherapist. It can be used as an option to treat a variety of injuries and conditions like:
chronic back pain
headaches
neck pain
hip pain
shoulder pain
tennis elbow
tension headaches
migraine headaches
tendonitis

plantar fasciitis

low back pain

whiplash

patellar tendinopathy

sports injuries

carpal tunnel syndrome
Dry Needling – What to Expect:
Dry needling involves inserting thin needles into the muscles in order to stimulate the release of trigger points, which can often be a source of pain. The treatments are carried out by one of Affinity's physiotherapists who have received special training in dry needling techniques, as part of their continuing education after graduation.
The needle used is a very thin filament, solid needle, much smaller than a hypodermic needle. It is applied in a way that affects changes in the muscle's characteristics, such as resting tone and chemistry. During the treatment, the practitioner inserts the needle into the dysfunctional muscle, which often creates a localized "twitch" response. While dry needling may initially cause some discomfort, most patients report significant relief after just a few treatments.
Check out our blog to learn more and watch a quick video to see how Dry Needling at Affinity Wellness may be right for you.
View this post on Instagram
Concussions- What you Need to Know:
A concussion is a type of traumatic brain injury that occurs when the head suddenly and violently hits an object. This can cause the brain to move around inside the skull, which can lead to bruising, tearing, and bleeding. Concussions can also occur when the head receives a sudden impact, even if there is no direct contact with the object. For example, a concussion may occur if you are in a car accident and your head snaps forward and then back again.
There are three stages of concussion:
Grade I concussion: This is the least serious type of concussion. There are no symptoms other than brief confusion.

Grade II concussion: This is a more serious concussion that can cause vomiting, headache, difficulty waking up, and blurred vision.

Grade III concussion: This is the most serious type of concussion and can cause loss of consciousness, memory problems, seizures, and paralysis.
If you think you or someone else may have a concussion, it is important to see a doctor as soon as possible. There are many ways to treat a concussion, but the most important thing is to rest and avoid any activity that could make the symptoms worse. If you have a concussion, you should not return to your normal activities until your symptoms have completely resolved.
Your doctor may refer you to a physiotherapist or an occupational therapist to help you recover from your concussion. Physiotherapy and Occupational therapy can help with symptoms such as headaches, dizziness, and balance problems and they can help with symptoms such as fatigue, difficulty concentrating, and memory problems.
Unlock Your Golf Performance Potential with TPI Assessments at Affinity Physio
Are you a passionate golfer looking to improve your game? Look no further than Affinity Physio's latest offering with Ty Perry, a renowned physiotherapist and Titeist golf performance expert.
Our TPI assessments can successfully evaluate physical limitations that may be hindering your swing efficiency, durability, and overall enjoyment of the sport. By correlating the findings from the assessment with technical elements in your swing, we quickly identify the key areas preventing you from playing at your best.
With Ty Perry's expert guidance and Affinity Physio's state-of-the-art facilities, you can unlock your golf performance potential and take your game to the next level. Don't let physical limitations hold you back from enjoying this incredible sport – book your TPI assessment with Ty Perry at Affinity Physio today!
Learn more about TPI assessments.
When To See a Physiotherapist
Affinity Family Wellness' integrated offering of physiotherapy services provides an effective approach to resolving pain, maximizing athletic performance, healing injuries, and optimizing functional movement.
Consider Calling Our Expert Physiotherapists if You:
Are seeking sports-based injury treatment

Will be undergoing surgery in the foreseeable future

Plan on becoming pregnant, are pregnant, or have given birth in the past

Are seeking support and drug-free pain management for a structural condition that limits your daily movement and comfort

Have experienced a head injury, suspect you have had a concussion, or have been diagnosed with a concussion
Are experiencing an overuse injury

Are seeking treatment options for joint, muscular, or nerve pain

Have changes in the physical demands put on your body, such as working from home

Are seeking relief and symptom management for chronic headaches and migraines
Are seeking treatment for dizziness or vertigo

Are looking to promote long-term wellbeing, mobility, and strength

Are undergoing accident injury recovery, and are seeking claim-based support & management

Are seeking pain and symptom management for arthritis, osteoarthritis, osteoporosis, or fibromyalgia
Physiotherapy in Kelowna Rates/Duration:
45-min assessment and treatment – $115
30-min follow-up treatment – $90
45-min follow-up treatment – $120
60-min follow-up treatment – $135
45-minute orthopaedic assessment and treatment – $115
30-minute orthopaedic treatment – $90
Book an Appointment
45-min assessment and treatment – $110
30-min follow-up treatment – $85
45-min follow-up treatment – $110
60-min follow-up treatment – $135
Book an Appointment
Have a question?
Need More Information on Massage Therapy in Kelowna?
Ask Our Experienced Team
Affinity Wellness is conveniently located in central Kelowna at #2-1890 Ambrosi Rd, off of either HWY 97 or Springfield Rd. There is FREE PARKING at the front and back of the building.
Hours
Mon-Thurs 8:00am – 8:00pm
Fri & Sat 8:00am – 3:00pm
Book an Appointment