At Affinity Wellness, our therapists are experienced professionals who will always put your best interests first. Our patient experience coordinators and RMTs are committed to providing you with the highest level of care and respect.
With over 200+ reviews from our clients, we invite you to contact us today and let us show you the Affinity Wellness difference.
Thank you for considering us as your partner in wellness.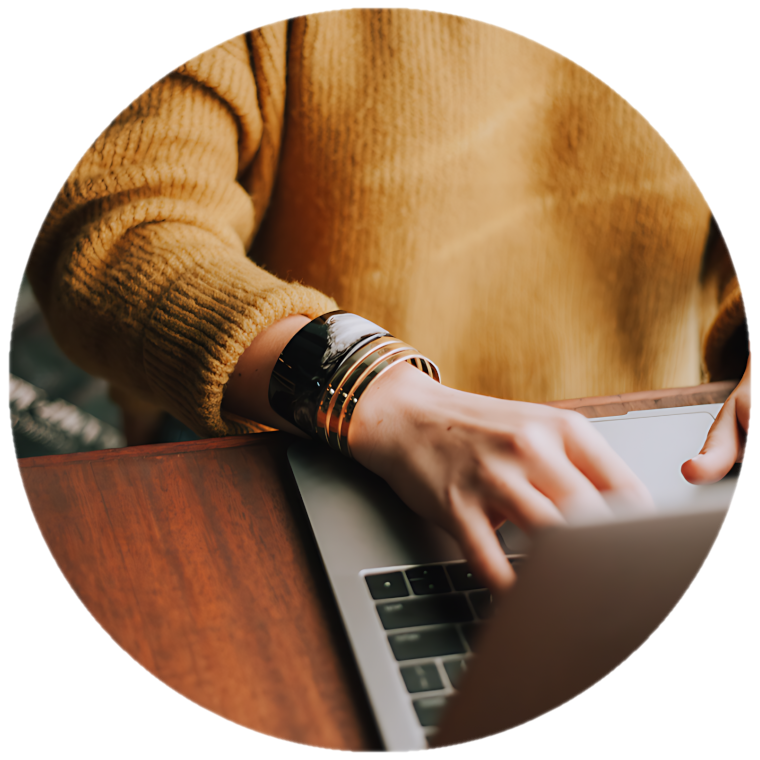 Over 200+ reviews from our clients
"I have been a client of Affinity Family Wellness for a number of years and can't say enough about the service and the professionalism of the entire staff and the company as a whole. Affinity is that perfect blend of therapy meets relaxation. The ownership has done an exemplary job of creating a spa like environment while providing extraordinary treatment delivered by the best therapists around. I would recommend Affinity to anyone!"

Ginny
"Affinity Family Wellness went beyond my expectations! I was fortunate and humbled to have Cynthia as my RMT and she did an absolutely incredible job. The staff was friendly and the atmosphere relaxing. I highly recommend this establishment to anyone looking for an excellent massage and a great experience!"

Irina
"When you feel broken and in need of repair, or just need a fine tuning, Affinity is where you want to be. The staff are skilled, educated and very caring. They will help you feel better faster."

Tracy
"I have been a client here for a few years, the staff is wonderful and the massage has been spot on every time. The atmosphere is clean, calm and professional. I highly recommend Affinity."

Jimmini
"Friendly staff gave a professional consultation and great massage. Good atmosphere and really nice massage tables. Would definitely recommend."

Jonathan
"I have seen many RMT's but my experience today with Hannah at Affinity was the best experience I have ever had. Her knowledge of different aches and pains and their root cause was impressive and she addressed all of my issues with care and attention. 10/10 would recommend."

Eli
"Kyla is the best and most compassionate massage therapist and has kept me in good condition for the past six years."

Betty
"Every aspect of Affinity exceeds expectations. The reception staff are friendly, helpful and courteous. My personal RMT is Frances Russell. She is professional, caring, highly skilled and knowledgeable. Frances is collaborative in her approach towards building client wellness. I would recommend her for anyone seeking an exceptional and experienced RMT."

Dana

Happy Client
"Amazing hands on deep massage & evolving tools to use at home for in between my appointments. I am an active person and feel my different needs are being listened to & met every time I walk in. Francis and the rest of the staff are fantastic and very accommodating."

Lindsay Lohmeier

Happy Client
"I had Adrian Matis today for a therapeutic massage.
He started by asking questions about why I was there, then determined what he would be doing and explained everything with precision and clarity.
I felt great after the massage. Excellent experience."

Jim

Kelowna, BC
"Friendly massage therapists who know what they're doing. I'm typically seen by Cynthia or Francis, who are both courteous and helpful. Their massages are very relaxing, and Francis definitely knows how to work out any knots or movement issues."

Chris MacKay
"Love the vibe of this place. The staff are super friendly.
I have had 2 chiro appts so far and 1 massage. Both were fricken amazing! Much needed and I will be back. Anthony and Sasha are really amazing at what they do. Thank you!! 🙂"

Brittni
"Every person working there was beyond great.The ambiance was comfortable and relaxed.My massage was excellent. Will definitely refer Affinity Family Wellness to others and I look forward to my next visit."

Mike
"My experience with Dr. Clayton was amazing, he explained every minute of what he needed to do to help me with my neck and shoulders, help me feel very comfortable with what he needed to do with the adjustments(great improvements on my first visit) Plan to continue seen him to get maximum relief of my issues."

Elsa
"Awesome team. I highly recommend this group of specialists for all your recovery needs. Thanks especially to Anthony, Ty, Sasha and the two Megan's."

Andrew
"Dr Clayton Selles is thorough in his explanation of your chiropractic assessment and patiently walks through exercises that help with recovery. Clay is friendly, enthusiastic, collaborative and highly important, compassionate.

Ty Perry is passionate about physical well being. He uses his strength as an active listener to adjust the treatment plan to match the patient's conditions for the week. He provides a progressive exercise plan and works with the patient to get back to peak form. Ty is excellent working with teenagers.

Meg and Megan are two of the friendly and welcoming faces at the front. They are quick to acknowledge by name, not just at the beginning but the end of the appointment."

Janinie
"The Affinity Family Wellness team has proven themselves with excellent customer services. I am so happy that I chose to come and get mine and my husbands treatments done here after our car accident. We are very impressed and find that the Affinity Family Wellness team goes above and beyond. We have different practitioner's working with us to combat different areas, and they have all been wonderful and really helpful and provided us with great treatment plans that actually work. We highly recommend people to come here if they are looking to get the best service in town!!!"

Mumina
"One of the best places in Kelowna for working on improving your body. They actually listen set a plan and reassess as you progress. Friendly atmosphere, and try their best to provide a solution. Recommend to anyone."

Kettlepunch
"Clayton is the nicest person ever. Kind, compassionate, and very thorough. He sure knows his stuff. He told me everything he was doing and what it meant. I felt his initial assessment was very detailed and that by the end of it he had a very good handle on my problems and how we can go about helping with my strength and flexibility and improving my structure. Nice office staff too!"

Jacqueline
"There is a great atmosphere in this place. It's relaxing and very clean. Their booking system is efficient and the interface is very friendly to use. You can filled up most of the forms online so when you show up for the appointment you are ready to go. Andrian did a great job in my first appointment. He was friendly, comforting and methodical. I felt great for the rest of the day. The muscle soreness was gone, and the knots were resolved."

Daniel
"I've had nothing but great experiences with everyone from the front desk receptionists to the physio and massage specialists. Thanks Affinity!
#1"

Steve
"Great experience with Affinity. From the booking process and getting the claim submitted, they've handled everything so the whole thing would be as stress free as possible. Anthony definitely has helped me with my upper back and neck as well as my lower back issue. He will guide and help you with recommendations on how to minimize with any issue you're having. Will for sure recommend them to my family and friends."

Mark
"Chantelle was professional and made me feel very comfortable in her space. She made sure to focus on areas that I had specified during our 60 min massage, but also went the extra mile to focus on other areas that she felt needed it. I left Affinity feeling relaxed and 20 years younger!"

Kailey
"Sean was amazing. My first time to a kinesiologist and the techniques he showed me helped immediately to relieve tension and pain. Positive optimistic nature and very pleasant. I have booked my next appointment."

Lisa
"Great place, friendly staff, and professional! Love that they host multiple different disciplines in one convenient space!"

Alexia
"I have been seeing Chiropractic and Kinesiology services at this clinic for a while now and am absolutely thrilled with the ease of booking online or through reception, service renewals done for me/direct billing, and everything online at my fingertips! This clinic offers so much convenience alongside of its amazing treatment! There is such knowledgeable staff and practitioners that work here. I have also brought my 7year old daughter here as well for Chiropractic services and they made her experience so calm and enjoyable. Definitely a family wellness practice living up to its name!"

Alyssa
"This office is absolutely beautiful, I love how clean it is and the atmosphere is so calming! I had a wonderful rmt massage with Ashlee and she 100% hit the mark! I definitely will be back to book with her in the future 🙂 if anyone is looking for a place to book, affinity wellness is the spot"

Sarah
"I have been seeing Tess for many years now for physio. She is incredible, so gentle, caring & compassionate! She's helped heal many of my injuries, and chronic back pain. The office at Affinity is also so clean & inviting. I enjoy going here!"

Sydney