Experience the Power of Kinesiology at Affinity Wellness!
Kinesiology Kelowna
Kinesiology is the study of human movement. It is a science that has many benefits for people of all ages. Exercise therapy is one of the most common applications of kinesiology. This type of therapy can be used to help people recover from injuries, or to improve their overall health. Kinesiology can also be used to help people after they have suffered a motor vehicle accident. If you are looking for post-MVA rehabilitation.
Affinity Wellness has many excellent options available including virtual appointments!
Book an Appointment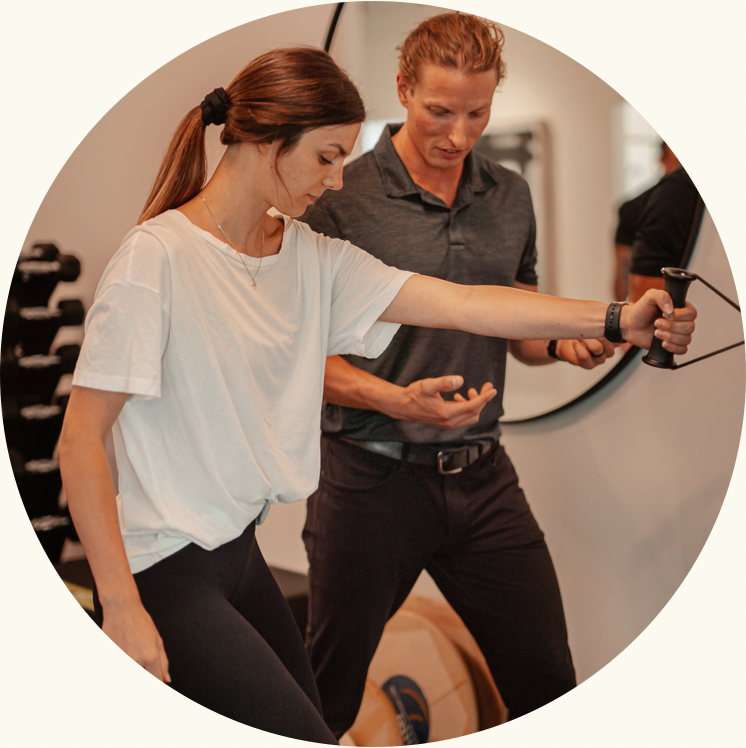 Kinesiologists work in a variety of settings, including hospitals, private clinics, community health centers, and fitness facilities. They often work as part of a team of health care professionals. Affinity Wellness' team of Kinesiologists are dedicated to providing the highest quality care possible. We use the latest research and technology to help our clients achieve their goals.
James holds a Master's and has been practicing for over 20 years, with a strong athletic background. Sean's specialty is working with Parkinson's patients. They are both currently taking their osteopathic certification.
At Affinity Family Wellness, our Kelowna kinesiologists assess and treat clients suffering from automobile accidents (MVA), physical injuries at work, sports injuries, post-surgery, chronic disease, neurological conditions and general life activities.
Our kinesiologists work with all ages at every stage of life or health to help improve your overall fitness, function, performance and most importantly, quality of life.
New ICBC rules have made it easy to access help with your rehabilitation and recovery by now offering 12 visits within 12 weeks of your accident.
Affinity Family Wellness direct bills ICBC to help limit any out of pocket expenses as well as any barriers standing in the way of you achieving optimal recovery.
Kinesiology sessions: What to expect
Many clients come to their first kinesiology session unsure of what they hope to get out of the experience. Your kinesiologist will spend some time getting to know your ailments and discuss your concerns before beginning.
During an assessment, you and your kinesiologist will discuss the accident or incident related to your visit. They will ask about previous ailments and perform range of motion, strength, and palpation tests. This will help your kinesiologist pinpoint where the body is stressed, and which areas to work on. As various tissues are interconnected, the rehabilitative work may not always be at the point of pain, depending on the situation.
Once your affliction has been identified, your kinesiologist will use their knowledge of the human body, specifically in exercise physiology, to develop specific exercises for you. These exercises will be built into a customized program to help re-balance the body. They often contain various elements designed to build up strength, stability, posture, balance, proprioception, etc. Additional techniques, such as soft tissue release, taping, and other modalities, are often incorporated to help with recovery, pain reduction, and healthy movement.
After a kinesiology session, many clients feel lighter or less weighed down. Some also feel energetic or find their concentration has improved. This is due to a realignment of the energetic body.
See More
Is kinesiology right for me?
If you are seeking out a way to rehabilitate yourself after a physical injury, Kinesiology may be able to help you regain physical function. Many clients are referred to a kinesiologist after seeing an occupational therapist, physiotherapist, or chiropractor in order to begin active rehabilitation. A kinesiologist will create and implement a structured and personally tailored exercise program that will enhance and promote a safe return to a client's normal daily activities.
Kinesiology doesn't just benefit those who are in the process of injury rehabilitation. Sessions can help alleviate anything from posture, digestion, power and strength, pain, food sensitivities and more. Talk to your kinesiologist about your concerns to discuss how kinesiology may help heal and return balance to the body.
Fascial Stretch Therapy (FST) is a unique manual therapy system of assisted, table-based stretching. It is an incredibly powerful therapy for improving posture and movement quality, and aids with recovery, injury prevention, and stress management.
Your FST practitioner will use an assisted stretching technique that focuses on mobilizing the fascia, joint capsules, and other connective tissues that may be limiting your flexibility, strength, and performance.
Your initial session includes a full body assessment and personalized plan, followed by your one-on-one treatment.
Fascial Stretch Therapy is a pain-free complementary system of table-based assisted stretching, focusing on the fascia and the joint capsule for achieving optimal flexibility, strength, performance, and pain relief.
Comfortable athletic clothes that allow you to move freely are preferred in case your therapist provides you with some mobility exercises to help your overall body function.
Fascial Stretch Therapy (FST) can be very effective if you are experiencing chronic back pain, work out or train regularly, or if you're rehabilitating an injury. Fascial Stretch Therapy is also used to help with anxiety, depression, mental health conditions, and/or physical and mental disabilities.
Your fascia is a network of layered connective tissue that surrounds your muscles, nerves, bones, organs, and joints. A joint capsule is a connective tissue structure that surrounds joints and is involved in optimizing the mechanical function of the joint, as well as giving it nutrients. FST focuses on both the fascia and joint capsules to give your body maximum benefit.
Kinesiology Rates/Duration:
*New Patients Only: 60-Min Assessment And Fascial Stretch – $90
Description: Initial assessment is a 60-minute process that includes a full discussion of health history and concerns, as well as goals and plans for future treatments. Your initial assessment also includes your first treatment, a plan for treatment going forward, and personalized home-care exercises.
60-Min Fascial Stretch Therapy Follow-Up – $100
90-Min Fascial Stretch Therapy Follow-Up – $140