Get Back to Living Your Best Life With Affinity Wellness!
Cranioosteopathy Kelowna
You may have encountered osteopathy as a solution for back and posture difficulties. It's a hands-on technique that stretches muscles, ligaments, and connective tissues while manipulating joints to ensure seamless function. Did you know these same principles can be applied to your neck and head through a technique called cranial osteopathy?
Book an Appointment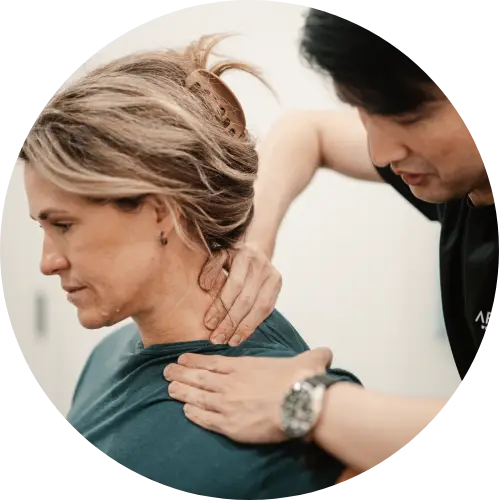 We Are Here for YOU!
Osteopathic Practitioners support the body's ability to restore and maintain health by using skilled palpation and manual techniques to influence muscles, joints, nerves, connective tissue, circulation and internal organs.
The World Health Organization, in its 2010 report on Osteopathy, recognized osteopathy as distinct from other healthcare professions that utilize manual techniques, such as physiotherapy and chiropractic, despite some overlap in the techniques and interventions employed.
We also offer direct billing to most major insurance companies as well as ICBC. Please see our direct billing page for more information.
Understanding Cranial Osteopathy
Cranial osteopathy is a special form of osteopathy involving gentle manipulation of your head and spine. It aims to balance the forces within our body. Our experienced practitioners use their hands to delicately mobilise your neck and cranium, releasing any pent-up stress or tension. Its gentle nature makes cranial osteopathy suitable for everyone, from little ones to adults.
The Magic Behind Cranial Osteopathy
Our osteopaths tap into their skills and years of experience to recognise subtle rhythmic movements in your body, referred to as 'Cranial Rhythms'. These involuntary movements help our osteopaths identify altered movement patterns, stress points, or strains within your body. 
What to Expect from Cranial Osteopathy
Cranial osteopathy is a gentle, relaxing, and non-intrusive technique. During the process, you may feel your tension and discomfort easing or completely disappearing. Some clients report little sensation during the procedure but notice significant improvements afterwards. The deeply soothing nature of the treatment may even lull you to sleep! 
The Benefits of Cranial Osteopathy
Many of our clients report improved sleep quality and patterns, as well as a general increase in well-being after cranial osteopathy sessions. While there's no concrete scientific evidence linking cranial osteopathy to the treatment of migraines or tinnitus in adults, many find that the relaxation it provides helps create a positive outcome for these conditions.
Cranial osteopathy is a safe and gentle technique, suitable for people of all ages. It can provide us with relief from physical and mental tension, which in turn helps us to feel more relaxed and energised so we can tackle the day ahead. So if you're looking for a natural solution to better manage your stress levels, why not give cranial osteopathy a try? You just might be surprised by the positive results!
As part of our multidisciplinary clinic, our leading healthcare professionals at Affinity Family Wellness are dedicated to helping you achieve your health goals – combining a wide variety of skills and expertise that spans the entire chiropractic, physiotherapy, massage, counselling, registered dietetics, and exercise rehabilitation wellness spectrum.
AS A TEAM, WE PROVIDE A WHOLE-BODY HEALTH AND WELLNESS APPROACH.
Book an Appointment
OSTEOAESTHETICS NOT ONLY ENHANCES NATURAL BEAUTY BUT ALSO PROMOTES HEALTH AND OVERALL WELL-BEING, RESTORING A HARMONIOUS BALANCE.
By utilizing osteopathic principles, a comprehensive assessment of the entire body is conducted, step by step. This includes evaluating the functionality of the musculoskeletal system, visceral organs, neuromuscular system, and peripheral vascular system. The aim is to identify the root causes of both aesthetic and health concerns. Based on the client's specific issues and problem areas identified during the assessment, a range of manual therapy techniques are employed, targeting muscles, ligaments, fascia, and bones.
OSTEOAESTHETICS HARMONIZES THE PHYSICAL, EMOTIONAL, AND ENERGETIC ASPECTS, FOSTERING OVERALL BALANCE AND WELL-BEING.