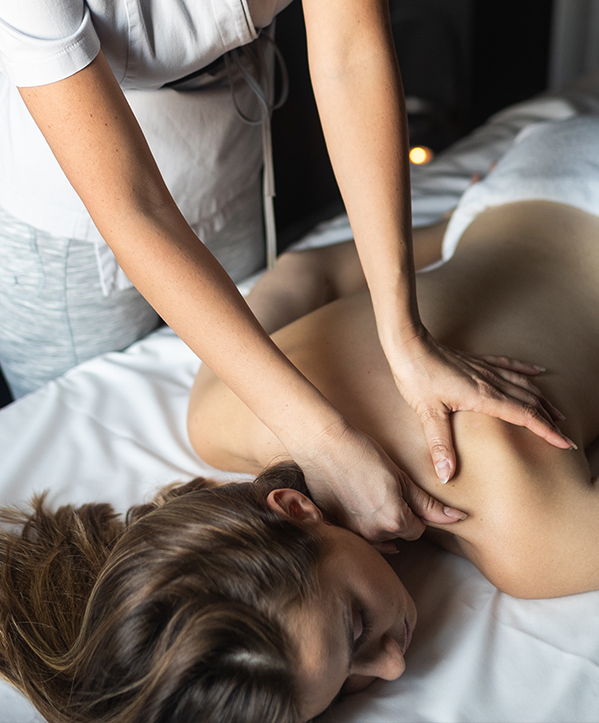 Benefits of Massage
How massage can be used as a tool to help you achieve overall well-being and wellness.
Massage is often considered a luxury to many, but the practice is centuries old and has many health benefits.
Many people have started receiving massage therapy after seeing a physiotherapist or chiropractor for a specific ailment like frozen shoulder, low back pain or sciatic nerve pain.
Many massage therapists are part of a multidisciplinary team of health care professionals such as osteopaths, physiotherapists, chiropractors and athletic therapists. Working as a team gives the patient the benefit of a more holistic approach to their care.
Massage is an important part of maintenance and keeping the body strong. It can help avoid injury by being proactive and keeping muscles moving freely, reducing pain and inflammation. We tend to over stress our bodies, working through the pain, with or without pain medication, until the pain is unbearable. Only then do we look for help.
There is no set schedule for the frequency someone should have a massage . It is usually based on whether they are treating an injury, their health benefits or lifestyle. If they are very active or do high-impact activity, they might schedule a massage every two weeks, where the average office worker could be on a monthly maintenance program.
Massage therapy is also good for the brain according to researchers. It can help decrease depression, anxiety and stress triggering a domino effect, helping improve symptoms of physical ailments like migraines and high blood pressure with the added benefit of decreasing the sympathetic nervous system. While massage can't deal with the WHY a person is stressed, it can help with decreasing a person's anxiety. Many people find that a massage is both relaxing and restful and just feels good. A reset.
To find a therapist that you are comfortable, it is best to shop around. Ask friends and family for recommendations. Not all therapists are alike and finding one that you communicate well with and like their style is extremely important for both parties. Ask questions and be clear with expectations and preferences while being willing to to try new things.
At Affinity Family Wellness we encourage you to receive a massage from all of our amazing and capable massage therapists and believe that seeing multiple therapists can be very beneficial.
We look forward to seeing you!